Well, I did a FANTASTIC
The Nightmare Before Christmas
themed video tutorial. Bad news is that my Windows Movie Maker keeps freezing up at 42% when I go to publish it. Ugh! Anyone know how to fix this?
Until then, I'll have to save that manicure for later. It's not in time for Halloween, but TNBC is fun any time of the year. So to make up for that and the lack of Halloween manicures, I have a double feature for you today! Here are two similar glow-in-the-dark Halloween manicures!
I decided to go with Jack-o-lanterns this year for Halloween. Very simple to do and they look fun! All you need is orange nail polish and a black sharpie or nail art pen.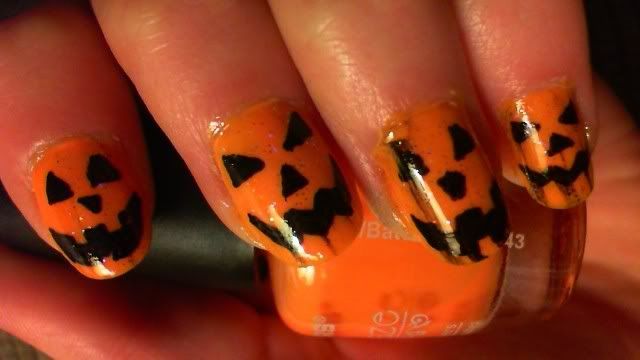 (excuse the smudges)!!!
Build up a few layers of orange polish so it's nice and opaque. The draw on the little faces. Be creative! It's great practice for when you go to carve your own pumpkins! ;)
But, that's not all! These pumpkins also glow!!! I couldn't get a very good picture of the glowing, and my glow-in-the-dark polish was a little off this year. I think it's time to get a new one. :/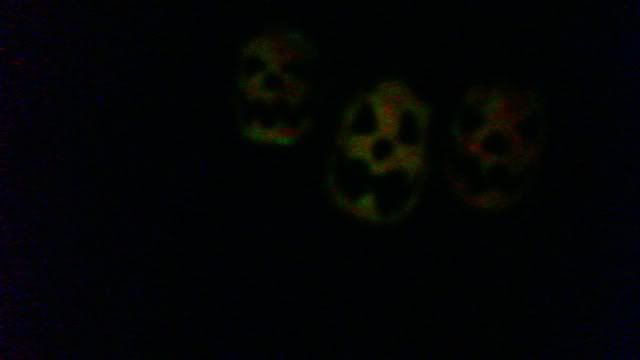 If you want your nails to glow and still be able to see the faces, you need to paint a glow layer after your orange and BEFORE you draw in the faces. This way your design will be on top and you can see it, even in the dark!
Last year I did a similar manicure. Instead, I used white nail polish and a spiderweb design. The principle is still the same though, draw on your design after you put a glow layer down. You can really use any color and any design you'd like! I, personally, think a bat would look awesome... ;)
Good news is that these two manicures work well on short nails, especially the pumpkin one (I dare to say I prefer it)! So fear not short nailed gals, you can rock nail art just as well! :D
So let's end on that note. Happy Halloween to everyone! Stay safe!