Happy 4th of July everyone!!!
So it's been a while since I've uploaded anything and even looonger since I've done a tutorial. So why not do one dedicated to the United States of America? Look at what manicure I'm sporting today! :)
Ok, first star off with a clear base coat of polish and paint your nails red.
Next, use either a toothpick, a striping brush, or thin paintbrush and paint white vertical stripes. If you're really careful, you can use the nail polish brush itself, it's just much more difficult.
*Optional* Paint your nails white with red stripes. :)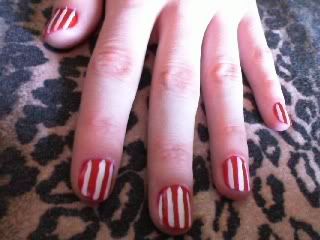 Next, you're basically going to paint blue french tips. Just use your blue polish and paint a smooth curved line at the tips of your nails.
Now to finish it all up, add some stars! Just make small white dots along the blue area. I did five stars on each finger, so there are 50 stars in total!
And it's that easy! Just finish up with a clear top coat to protect your patriotic manicure. I think this manicure looks great on short nails, but I'm sure it'll be fabulous on long nails too! :)